(please note team training is now at College of West Anglia rather than Hilltop stables)
CURC is a large active club with members from a wide variety of backgrounds. We provide lessons for riders of all abilities so whether you are a seasoned competitor leaving a horse at home, or just fancy trying something new, we would love to welcome you as a member. Membership is open to students, alumni and staff of Cambridge University and Anglia Ruskin University. Please see our membership pages and if you have any questions contact our President (curcpresident@gmail.com) for more info.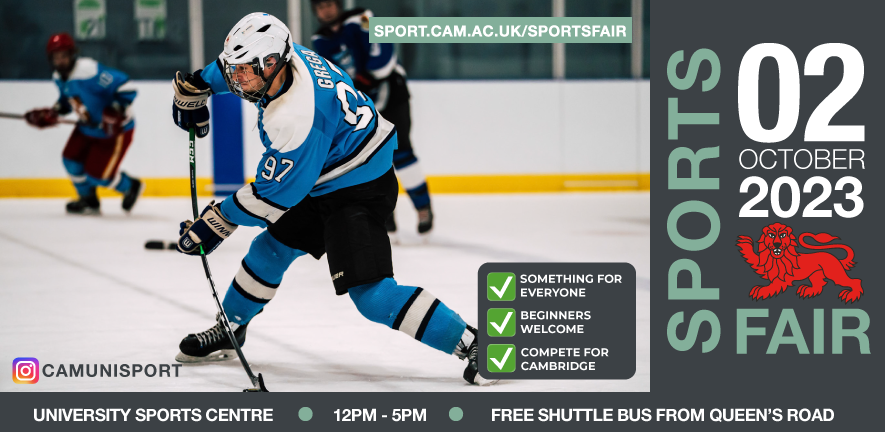 Come and meet us at the Sports Fair 02 October 2023
Our three very successful Cambridge University teams, competing as Cambridge University Equestrian Team, compete in the inter university BUCS competitions as well as the annual Varsity matches against Oxford University. For more information please see the TEAM PAGES and if you have any questions contact the Captain (cuet.captain@gmail.com).
Weekly lessons, which you can attend as little or as often as you wish, take place at two local stables – beginner/novice lessons at Springhill Stables on weekdays only and intermediate/advanced lessons at Hilltop Equestrian Centre on weekday evenings and weekends. Both stables have great horses and excellent instructors. We hold inter-collegiate competitions (dressage and showjumping) as well as fielding several competitive teams.
As well as lots of riding we have an active social scene including club formals, trips out and much more! Riding with CURC is a great way to meet like minded people, take a trip out of town to spend time with the lovely horses and get some fresh air and exercise as a break from work.
To find out how to join the Club, visit our Membership page. If you are interested in competing for the Cambridge University Equestrian Team visit our Trialling page.
For more information about women's sport at Cambridge, see the Osprey's website.